It's official – you're coming to Paso Robles Wine Country!
You've finally found a date that works and maybe you've even booked your accommodations, so the anticipation is building.
Now comes the fun part, planning your perfect day wine tasting in Paso Robles.
Maybe this is your first time, or maybe you've been here before – but you know there are so many great options, and with over 250 wineries to choose from it can feel daunting to narrow it down to just a few stops.
You may try searching for the best tasting rooms, or best winery for a certain wine style, but all the blog posts that name the same wineries over and over.
You also realize those wineries won't host a group your size, or maybe two of the ones you want to visit are far apart from each other.
It may start to feel overwhelming.
Luckily, there are a few strategies you can use to make the process easier and ensure you put together the perfect day for your group.
Consider factors such as wine styles, ambiance, and scenic views. It's also a good idea to check if reservations are required for tastings.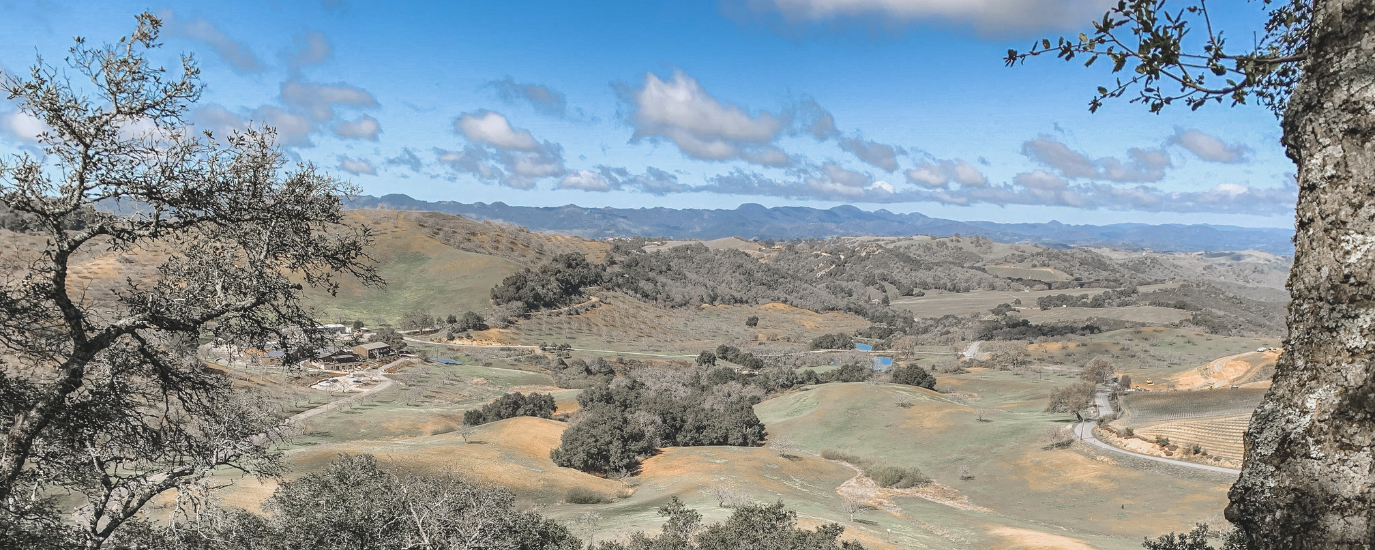 1. Be sure to plan where you're going to eat lunch
When planning a day out wine tasting in wine country, you'll want to make sure that you're including time to eat so that you can enjoy the day to the fullest.
Therefore, one strategy is planning where your group is going to enjoy lunch and then building the day around that stop.
You'll need to decide whether you want to picnic at a winery or eat at a winery that has a full kitchen.
If you want to picnic, not all wineries permit guests to bring outside food so you'll want to check their policy before planning to eat there.
Some wineries will let you picnic but have a separate area where you can go after your tasting, so you'll want to be sure to plan your timing accordingly to allow time for the tasting as well as the picnic.
For wineries that have full kitchens, you'll want to confirm that they can take a group your size and whether they require you to pre-order.
Keep in mind that on busy days, such as Saturdays or holiday weekends, winery kitchens may get backed up, so you might want to leave a little extra time for this stop.
Also, be sure to bring plenty of water to drink throughout the day. Wine tasting can make you dehydrated, so it's important to drink plenty of water.
2. Make reservations at the wineries, far in advance if possible.
Most wineries in Paso Robles require reservations these days, especially if you're a group or visiting on a weekend.
If you're traveling in a group of 6 or more, many wineries have limited space for larger groups, so those availabilities book up further in advance.
Also, very popular or well-known wineries will book up weeks or months in advance, especially on busy days like Saturdays or holiday weekends.
If you're looking for a special experience or tour, book that first and then plan the day around that stop.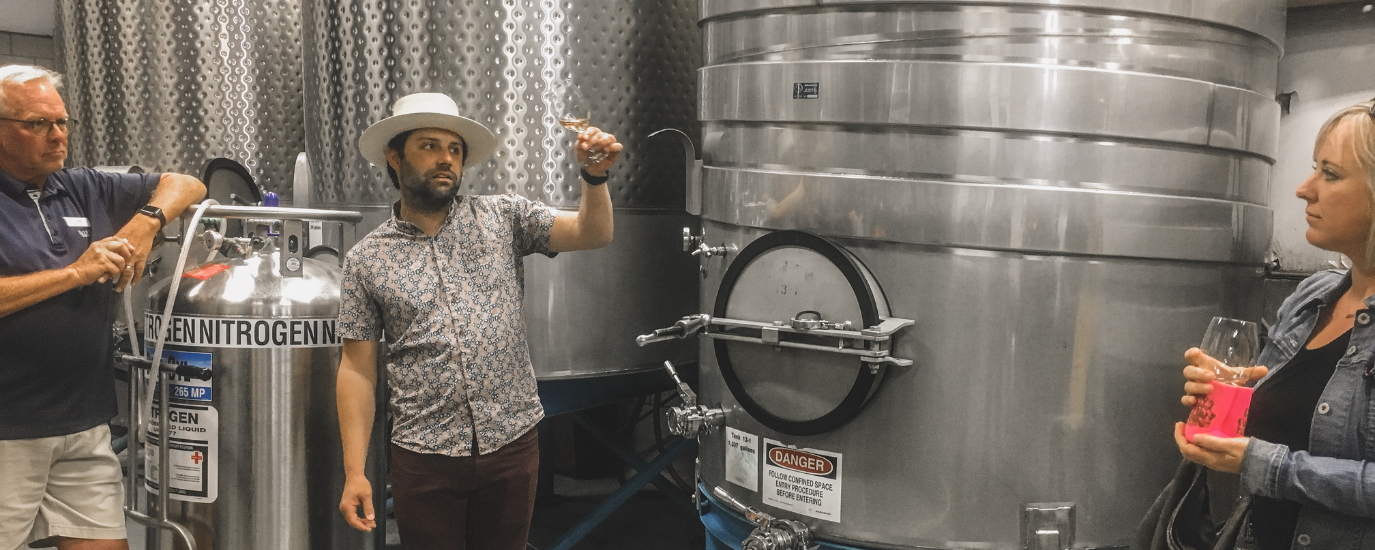 3. Pace yourself and don't cram too many wineries into the day.
Three to four wineries are the perfect number of places to visit in a day so you don't feel rushed and can enjoy what each winery has to offer.
You'll also want to be realistic about how many hours you'll need to visit the number of wineries you're hoping to get to. You need to take factors such as:
your group size
the types of experiences at the wineries
drive times in between
whether you're eating at that stop
Wineries open between 10:00am – 11:00am and most close at 5:00pm, and many take their last reservation at 3:30pm.
Some wineries will only take larger groups at specific times, often first thing in the morning.
Many wineries will offer guidance on how long you should leave for the experience on their website, but if not, we recommend calling to ask.
Some wineries keep their tasting experiences to between 1 to 1.5 hours, while others may recommend a minimum of 1.5 hours, especially if you're a larger group or it's a Saturday.
If you're having lunch at a winery, be sure to allow extra time for that as well.
Also, if you're traveling with a group, be sure to allow extra time for checking out (wine purchases can add time), using the restroom, and taking photos!
4. Try to stay in one area to minimize driving time between stops and help you maximize your time at each winery.
Paso Robles is a large geographic area, and there can easily be 45 minute to an hour drive between some wineries. Sometimes wineries that look close together on a map can be deceptive!
On top of that, most Paso Robles wineries are located on curvy backcountry roads, so recommended drive times aren't always accurate.
5. When making reservations, be sure to plan for every guest in your group (children and non-tasters are people too!)
Many Paso Robles wineries have limited space and seating, so they need to know the total number of guests in your group to guarantee they have space for everyone.  
Even if some people in the group aren't tasting, they need to be counted in your guest count.
Some wineries have a maximum group size they can accommodate, so it may mean that your group is too large for certain wineries.
Keep in mind that many wineries have specific group policies, so they may have an extra fee, require prepayment, or automatically add gratuity based on your group size.
Not all wineries permit your group to make multiple reservations for a larger group, so if you're planning to do this, call to confirm it's Ok. Otherwise, you may be sent away when you arrive on the day of your tasting.
Always be sure to ask each winery what their specific group policy is and what size they consider to be a group.
6. When selecting wineries, make sure they're a good fit for your groups' needs.
If you have children in your group, you'll want to confirm with the winery what their policy is for bringing children.
Most will require that you include them in your group size, but some may require that the child remain seated at the table with you for the duration of the tasting.
So be realistic about your child's demeanor and ability to visit certain wineries.
Some wineries may have more outdoor space or games for children to enjoy, however, you'll still need to closely monitor your children to be sure they stay safe, don't disrupt other tasters or cause damage to the property or the vineyards.
Additionally, many wineries are dog-friendly, but be sure to confirm this beforehand since many wineries may have certain areas where dogs are or are not permitted.
Be sure to only bring dogs who are friendly to other people and dogs, and keep your dog on a leash at all times.
Consider the type of ambiance and experience you're looking for when making reservations. If you're looking to have a casual day out with friends, some wineries with very one-on-one tasting experiences may not be a great fit.
7. Hire a professional local tour company to safely drive you around or help you plan your perfect day.
It's important to have a plan for responsible transportation to keep you safe and help you enjoy the day to the fullest.
A standard pour of wine is 2 ounces, and many wineries offer tastings of 4 to 6 wines per tasting, which means that each tasting is the equivalent of ½ a bottle of wine – per person! Even if you're sharing or spitting, this can add up quickly.
To make the most of your day, we recommend hiring a professional and reputable tour/transportation company. Learn more about whether a wine tour is perfect for your group.
Many companies will help with making recommendations for wineries that will be a great fit for your group, help with planning timing and logistics, and so much more!
When searching for a company, be sure they have TCP number and commercial insurance, otherwise, they are an unlicensed operator and could be putting your group at great risk.
At Toast Tours, we not only offer safe, comfortable, and licensed transportation but also help you plan your perfect tour from start to finish!
On top of that, all our drivers are knowledgeable tour guides who can educate and offer insight into the Paso Robles area, winemaking, farming and so much more.
8. Plan what you're going to do for dinner that evening.
After a wine tour, your group may be feeling a little tired or disorganized, so it's a good idea to have a plan for food after the wine tour.
If you're planning to dine out after your wine tour, be sure to make your reservations far in advance since many downtown restaurants book in advance.

If you're a bigger group, be prepared that they may only be able to take your group early (around 5p) or late (8p or later).

Another option may be to plan to order food to be delivered to where you're staying. If you're staying at a place in the countryside, confirm in advance that food delivery services will come to that address.
You could also have a private chef come to your accommodations for a truly special and unique experience!
You'll want to find your perfect wine country outfit, but be sure to keep it comfy – and bring layers.
Temperatures can fluctuate significantly even within one day.
Paso Robles has the biggest diurnal temperature swing of any wine country in the U.S. (that's the difference between the daytime and the nighttime temperature), so even if it's hot during the day, the evenings may become cool and chilly.
On top of that, temperatures inside wineries or cellars can be cooler, so you may want a light jacket or sweater to keep you comfortable.
However, you may also want to bring a hat and wear sunscreen to protect you from the intense sun, depending on the time of year.
Also, plan to wear comfortable shoes. Many of the wineries have dirt or gravel pathways with uneven surfaces, or you may find yourself walking through a vineyard.
10. Capture those memories!
Take photos of the beautiful views, time with friends and the places that you visit.
Try to take notes about the wineries, wines you enjoyed and anything else you remember about your special visit.
They'll create special mementos and help you remember the trip more clearly.
Planning your perfect day wine tasting in Paso Robles is an exciting and fun experience!
Use the tips above to help plan your perfect day and savor wine country to the fullest.
Cheers!