If you are like us, all this time stuck at home has you dreaming about your next holiday.
If you love beautiful scenery, meeting friendly locals, delicious cuisine and sipping world-class wine, then a wine tasting trip in Paso Robles wine country could be just what you need.
Whether it's your first time or you've been here before, we've put together some useful information below to help you start to plan your trip for when things open back up.
So what is wine tasting and why is it fun?
When most people think of a day out wine tasting they envision drinking copious amounts of fermented grape juice in beautiful locales, and that is about as far as they get.
Officially, wine tasting is defined as a gathering of critics, buyers, friends, etc., to taste a group of wines for comparative purposes.
What neither of these take into account is that wine tasting is equally about the enjoyment of tasting a variety of wines, but also learning the story and history behind the wines, winery and region.
Yes, you will be visiting beautiful locations and consuming a decent amount of wine, but the goal isn't just to drink the wines.
You get to hear the stories, walk through the vines where the grapes grew, learn why the unique terroir makes this wine taste so different than the one you'd tried at another winery before and what specific steps the winemaker took to create the masterpiece in the glass you're sampling at that moment.
It is often these stories and experiences that add to our enjoyment of wine and wine tasting.
Wine tasting in Paso Robles is also an opportunity for you to taste a number of wines you may not have tried otherwise and compare different varietals, learn about your specific preferences and so much more.
While there is some recommended etiquette to wine tasting (check out WineMag's 14 Rules for Visiting a Tasting Room), it shouldn't be snobby or pretentious.
However, you will enjoy the experience more if you ask questions and learn a little about what your trying, the proper way to taste (and why smelling your wine is important) and have an open mind.
Even if you don't think you like red wine or have tried a Chardonnay before that wasn't your jam, it's still a good idea to give those wines a try when wine tasting in Paso Robles since it's a great opportunity to do so, and you may be surprised. And if you don't enjoy it, no one will mind if you use the dump bucket.
Ultimately, the goal is to have fun while trying new wines and expanding your palate – whether it is your first introduction to tasting wine or you're an expert.
Finally, most wineries offer tastings with the hopes that you'll find a wine, or multiple wines, that you like and take some home or join their club. If you do, this will often waive your tasting fee and you'll have something tasty (& often a great story) to enjoy later – what's more fun than that!
How has wine tasting changed after COVID-19?
While all wineries are excited to host you again in their tasting rooms, you may notice some changes in their policies and the experiences offered.
First of all, expect to need a reservation. Most wineries will be requiring that you make a reservation in advance so that they can provide you with a quality tasting experience that accommodates required social distancing guidelines and keeps in line with their reduced capacity allowances.
Also, most wineries are limiting the number of guests allowed to visit per group. Each winery has different parameters depending on the size of the winery and their staff, but the maximum currently recommended by The Wine Institute is no more than 6 guests per group.
When possible, wineries that have sufficient outdoor space are encouraged to hold their tastings outdoors. Be prepared by bringing sunscreen or a wide-brimmed hat to protect you from the sun, and drink plenty of water to avoid overheating.
Quick recap:
Reservations Required
Limited group sizes – no more than 6 guests at most wineries
If possible, Tastings will be held Outdoors

Given all of these changes, it is a good idea to hire a tour operator to host your group (learn more about if a wine tour is worth it for you).
Drinking and driving is never a good idea, but a quality tour operator will plan your day & make all your tasting reservations for your group.
They will also prepare you for what to expect at each of the wineries, and provide the group with chilled bottled water and a safe, comfortable vehicle to allow you to enjoy the day to the fullest.
How to get to Paso Robles
Paso Robles is ideally located halfway between Los Angeles and San Francisco, just inland from Pacific Coast Highway Route 1, on California's Central Coast.
Getting to Paso Robles by Car:
Google Maps should do the trick, but in case you don't have coverage…
From the North: Take US 101 South. To go downtown, take the 17th Street exit. If you come down on the Pacific Coast Highway, California Route 1 – see the directions from Cambria & San Simeon.
From The South: Take US 101 North. To go downtown, take the Spring Street exit. Follow Spring Street north to our City Park, located at the corner of 12th and Spring.
From The East: Take Highway 46 or 41 from Interstate 5 and the valley, which will bring you right into town on 24th Street. To get downtown, turn left onto Spring Street.
From Cambria And San Simeon, or if you're coming from Pacific Coast Highway Route 1 from the North: Take Highway 1 South. Three miles past Cambria will be Highway 46 (Green Valley Road), turn left going east toward Paso Robles, then take US 101 North. Downtown Paso Robles is accessible by using the Spring Street offramp. Then follow Spring Street north.
From Morro Bay: Take Highway 41 East to Atascadero then US 101 North. Downtown Paso Robles is accessible by using the Spring Street offramp. Then follow Spring Street north.
Getting to Paso Robles by Train:
If you're looking for a grand, scenic adventure – we highly recommend taking Amtrak's Coast Starlight train, which operates daily between Seattle and Los Angeles.
The train will bring you directly into Paso Robles downtown, where you can easily walk to a number of excellent hotels or start hitting up some of our great downtown winery tasting rooms. Cypher Winery has their tasting room at the train station – so you can start enjoying it immediately!
Want someone to do all the planning for you? We offer a 3-Day Central Coast Hearst Castle & Wine package from Los Angeles or San Francisco that includes train tickets, two nights downtown hotel accommodations, and a full day Hearst Castle and Paso Robles Wine Country Tour.
Getting to Paso Robles by Plane:
San Luis Obispo County Regional Airport (SBP) is the closest airport – just 32 miles from Paso Robles and offers direct flights from San Francisco, Los Angeles, San Diego, Seattle, Denver, Phoenix, Las Vegas, and Dallas.
Find flights to San Luis Obispo for your stay.
Once at the airport, you can rent a car, hail an Uber/Lyft or pre-arrange one of the local taxi services. The San Luis Obispo airport has more information about available services.
If you book your stay in Paso Robles at the downtown Oxford Suites Paso Robles, they offer free shuttle service directly from the airport.
Other airports you can fly into are:
Santa Barbara Municipal Airport (SBA) 126 miles from Paso Robles
San Jose International Airport (SJC) is 162 miles
Oakland International Airport (OAK) is 191 miles
San Francisco International Airport (SFO) is 192 miles
Los Angeles International Airport (LAX) is 213 miles
From each of these you will want to rent a car, or you can take the Amtrak Coast Starlight directly into downtown Paso Robles.
Keep in mind that while Amtrak does offer frequent bus service, you are only able to reserve the bus if you also have a train ticket.
Paso Robles offers a wealth of quality accommodations, ranging from luxurious resorts to boutique B&B's set amongst the vineyards.
If you're arriving into Paso Robles by train or taking an Uber/Lyft from the San Luis Obispo airport, we recommend staying near the downtown City Park, located between 11th & 12th Street, off Spring Street.
This area is highly walkable and has a wealth of excellent restaurants, winery tasting rooms, breweries, boutique shops, art galleries and much more. 
If you're looking for high-quality downtown accommodations with great amenities that won't break the bank, check-out the Oxford Suites Paso Robles. Aside from a modern and friendly atmosphere, each spacious guest room suite is designed with your comfort in mind. Add to that an included tasty buffet breakfast, evening wine reception, on-site fitness center, outdoor heated pool, spa, steam room, sauna and more – all sure to make your wine country holiday as enjoyable as possible.
If you're looking for luxury, the newly opened Piccolo Hotel features deluxe accommodations and a hip rooftop bar, Tetto.
Or the Hotel Cheval, named #1 small hotel in the United States, offers 16 boutique guest rooms and boasts unique amenities such as a s'mores butler, library candy bar and the best wine bar in Paso Robles, The Pony Club.
For a charming hotel with a historic flare, check-out the Paso Robles Inn. Located off the park, the hotel was originally built in 1889 but was destroyed by a fire in 1940. It was rebuilt just two years later as a garden style inn, designed to accommodate motoring travelers. The standard rooms are cozy, but for an upgrade, guests can enjoy deluxe wine-themed spa suites.
Just outside of the downtown is the Allegretto Vineyard Resort, which is an excellent option if you're looking to get pampered during your holiday. They also have an excellent on-site restaurant, Cello Ristorante & Bar and winery.
Also just outside of downtown is La Bellasera Hotel & Suites, which offers a choice of luxury hotel suites, including whirlpool, fireplace and patio suites. They also boast great amenities such as a wine happy hour, swimming pool, fitness center and an excellent on-site restaurant, Enoteca Restaurant and Lounge.
There are also numerous excellent B&B's and vacation rentals outside of town in the countryside, often overlooking stunning vineyard views. These can be perfect for a romantic getaway, but keep in mind it will mean you will need to drive yourselves nearly everywhere.
Often, there is limited coverage the further you get from town and it can be more difficult to call an Uber or Lyft. Also, most wine tours don't pick up further out in the countryside unless you book a private tour.
Check out our Recommended Places to Stay in Paso Robles Wine Country for more ideas.
Is there Uber in Paso Robles?
Yes, there's Uber in Paso Robles. It is one of the most reliable and best taxi services in and around downtown Paso Robles, CA. However, given the limited coverage in wine country, it can sometimes be difficult to request Uber once out wine tasting.
Uber Wine is available, where your Uber driver stays with you all day, however there aren't always drivers available when you need them. Additionally, you're not guaranteed to get a driver who is familiar or knowledgeable about the area or wine country, and who may get lost since there isn't any coverage the further out you get.
Additionally, Uber Wine may cost more than jumping on a guided wine tour, which also typically includes a picnic lunch in the tour cost.
This article 'How Uber Wine ACTUALLY Worked When Put To The Test' describes some of the advantages & disadvantages to the service.
We always recommend having a driver when you go wine tasting in Paso Robles. Many wineries are located on winding countryside roads, and tastings can add up quickly when you visit multiple wineries in a day.
Additionally, to enhance your wine country experience, we recommend booking a reputable wine tour operator that offers a knowledgeable wine guide who can offer some insight and show you some of the best non-touristy wineries in the region.
A quality tour operator will provide more than just a driver, but someone who is knowledgeable about the region, winemaking and will help you find the best wines the area is known for, while learning about your personal preference and palate.
Often you only have a limited amount of time to explore Paso Robles, so a quality wine tour will help you make the most of your time and experience as much as possible.
At Toast Tours, we go one step further and work with wineries to offer guests more in-depth, behind the scenes experiences that enhance your wine tasting tour. Our tours focus on visiting small-production, family-owned wineries that make high-quality wines Paso Robles is known for. Plus, our guides have considerable wine knowledge and experience that they love sharing with guests – we offer more than just a driver taking you from point A to point B.
Our Toast Together group wine tour is a full-day experience that includes lunch at a winery and is a great value.
For the time being we have discontinued all our group tours and are instead offering specialized and exclusive Private wine tours – at a great value!
To learn more, check out our Private Tour.
How much is wine tasting in Paso Robles?
Wine tasting fees can vary widely from one winery to another. The average tasting fee can range anywhere from complimentary to $50 per guest for anywhere from four to nine tastes (an ounce or two each). The average cost is $15-$25 per person, per winery.
Most of the wineries will waive tasting fees for those guests who purchase their wine or join their wine club.
If you're looking for a tour or an elevated tasting experience, wineries will often charge higher tasting fees which may be non-refundable.
Keep in mind that wineries are in the business of selling their wine, not tastings – so if you find a wine or winery you like, we strongly encourage you to buy some bottles or join their wine-club.
Not only will you be supporting a local business, but most are small, boutique wineries that don't distribute their wines and only offer them for sale directly through their tasting room. So this is your only chance to bring them home to enjoy later. Now that's our kind of souvenir!
What to do in downtown Paso Robles in the evening after a day of wine tasting:
Paso Robles has a vibrant downtown area that boasts numerous excellent restaurants, wine tasting rooms, breweries, bars, art galleries and more.
I'm not going to lie – there are loads of great options and it's hard to narrow them down.
The best option for you will depend on whether you're looking for an upscale experience, prefer to go more casual or if you're celebrating a special occasion and want something unique.
Once you've booked a hotel or have a wine tour booked, it may be a good idea to reach out to them and request specific recommendations based on your interests.
One thing to keep in mind is that many of the venues in Paso Robles close earlier than bigger cities, so be careful lounging too long in your hotel room after a full day out or you may miss out.
*Also, guest capacities at each venue may be reduced due to COVID19. Please check with each place directly to confirm their policies and availability.
Some of our favorite Paso restaurants include:
The Hatch is an excellent rotisserie & bar that specializes in high-quality wood-fired food and classic, craft cocktails in a hip, industrial-chic setting. Be sure to make a reservation since they often book up far in advance.
Jeffries Wine Country BBQ has quickly become a popular staple with their unique style of delicious wine country comfort food, premium local wines and craft beers and their relaxed outdoor courtyard.
Thomas Hill Organics is a highly rated farm-to-table restaurant that utilizes organic, regionally-produced food, boasts an excellent local wine list and offers a superior dining experience in their enchanting courtyard.
Les Petites Canailles translates to English as "the little rascals", which represents the 2 children of Chef Julien Asseo and his wife Courtney, who opened Paso Robles newest farm-to-table establishment at the end of 2019.
Don't let the newness fool you though – Chef Asseo boasts an impress resume that runs from Paris, France to executive Chef at Guy Savoy in Las Vegas. Now he's arguably making some of the most exciting food offered in downtown, with a focus on classic French-inspired dishes and easily one of the most impressive wine lists around. Reservations are highly recommended.
Best described as a blow-your-mind food and wine experience, at Somm's Kitchen Chef Ian Adamo takes his years of expertise working at several Michelin star and James Beard awarded restaurants, as well as his Masters of Wine training to create a food and wine pairing you will never forget. Limited to just 14 guests per night, the meal boasts 8 courses with 10 wines, all expertly paired. Ian himself is a great storyteller and entertains everyone while skillfully preparing each course in front of your eyes. Excellent for special occasions, and reservations required.
Fish Gaucho offers a lively cantina featuring quality modern Mexican dishes, as well as a great selection of craft cocktails & tequila in a rustic-chic space. They only accept reservations for groups larger than 10, so there can often be a wait.
La Cosecha is Spanish for 'the harvest' and centers on the cuisines of Spain and South America, while taking advantage of the farmer's market-fresh produce, meats, and cheeses of California's abundant Central Coast. They also boast an excellent selection of cocktails and a great local wine list.
If you want to enjoy more locally made craft wine, many of the downtown wineries stay open later, especially on weekends.
Check out the Paso Robles Downtown Wine District for a full list of tasting rooms and up to date hours.
In the mood for a beer instead?
Head over to Silva Brewing and try one of Chuck Silva's delicious, small batch craft beers, often made from ingredients sourced from local farms.
Cal Coast Brewery offers a lively atmosphere with a selection of craft beers, large outdoor area and live music.
The newly opened The Backyard on Thirteenth offers a fun outdoor biergarten, complete with a great selection of local craft beers and wines, as well as delicious food served up by Roots on Railroad.
Looking for a top-notch cocktail?
Head over to the speakeasy style cocktail lounge, 1122, recently named one of the top must see hidden speakeasys in the world. The tiny lounge is worth the wait and will offer a truly unique cocktail experience where all your senses will be engaged.
Another fun spot that stays open late is the iconic Pine Street Saloon. Housed in one of the oldest buildings in Paso Robles, the local dive bar offers frequent karaoke nights and other fun events.
For more recommendations, check out our Where to Eat & Drink page.
Be sure to check out the Downtown Main Street Association website for other events that may be happening, such as the Free Summer Concerts in the Park series that takes place every Thursday evening.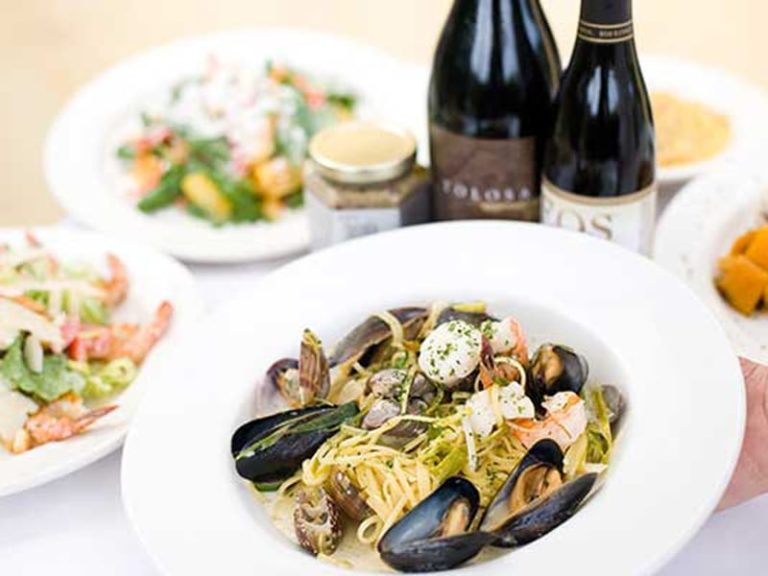 What should you pack to wear in Paso Robles
You may have heard that Paso Robles is HOT, and that our cool nights make the perfect climate for growing grapes for fine wine. So which is it?
Basically, you're going to want to pack Layers – no matter when you're visiting.
During the warmest months, June through September, it can easily reach triple digits during the day, depending on where you are. We have many micro-climates here – so the closer you are to the coast, the cooler it will be.
However, come evening, those temperatures may drop 30 – 50 degrees Fahrenheit, making it quite chilly outside.
During the winter and into early spring is when we see all our yearly rainfall – which is not something you need to worry about during the summertime. Some winter days can also be sunny & pleasant, with occasional chilly breezes, and evenings can drop below freezing.
Also, keep in mind that Paso Robles boasts a casual, laid back atmosphere – so no need to dress up, unless you want to of course!
It's always a good idea to wear comfortable shoes – we prefer something closed-toe – since you're likely to find yourselves walking a lot, often through dusty vineyards. Paso Robles wine country is the perfect place to wear those cowboy boots if you've got 'em.
Bring a good quality sunscreen, sunglasses and a rimmed hat to protect you from the sun.
During the day that sundress or shorts may be a good idea, but in the evening, you'll likely want to put on something a little warmer, so bring full-length pants and a jacket.
During the winter months, you may want to bring waterproof shoes, an umbrella or rain jacket and a winter coat for the evenings (seriously).
How to Get Your Wine Home
After you've had a fun and successful visit to Paso Robles wine country, you may find yourself with a nice selection of delicious wines to get home and enjoy later.
One of the best options is to have the wineries ship the wine home for you since they will package the wines properly and will wait to ship them until the climate is suitable.
However, not all wineries can ship to all states or if you're just purchasing one or two bottles at each winery, the shipping may be more expensive than it's worth.
If this is the case, you will need to find a way to get your wine home yourselves, since it is against the law to ship wine without a license.
For transporting wine, it is important to keep wine at a cool, consistent temperature, with 55 – 65 degrees Fahrenheit being ideal. You'll also want to store the wine either laying down or upside down to keep the cork in contact with the wine. If you don't, the cork may dry out which could lead to oxidation.
If you think you'll be traveling with wine more often, it may make sense to invest in a specialized wine suitcase. These are designed to keep your wine secure and climate controlled. They can also make traveling with wine much more convenient, regardless of whether you're traveling by train, airplane or car.
We recommend the Vino-Voyage 2.0 by Wine Enthusiast. The bag itself is sturdy and durable, holds up to a case (12 bottles) of wine and has a built-in scale, amongst other useful features.
If you're not looking to drop a couple hundred bucks on a bag to carry your wine, another option could be a wine shipping box.
These safely hold a case of wine and are typically insulated to help keep your wine temperature controlled. They are easy to store in your car or check as an extra bag on the airplane, though they can get a bit bulky so aren't ideal if you're traveling by train.
They can also be a bit difficult to find. Some wineries may have them available for sale if you ask, or if you join us on one of our wine tours, we offer them for sale for just $15 per box.
If you just have a few bottles, you can always wrap them up and put in your luggage to take with you.
However, it may be a good idea to purchase some Wine Skin bags which fit over individual bottles to protect them, and are leak proof so that if something does happen to one of your bottles, it doesn't destroy everything else in your bag.
Finally, if you have driven here, you may want to bring a cooler to help keep your wine temperature controlled. It's useful to have some ice packs, which are better than loose ice since that may destroy the labels.
If you don't have a cooler, shipping box or wine suitcase, keep bottle purchases in the air-conditioned passenger seat of your car as opposed to the trunk since it can get very hot and cause the wine to taste "stewed."
If you are stopping somewhere overnight, it's a good idea to bring your wine inside with you to keep it as temperature consistent as possible.

And there you have it! A quick overview to help you start planning your perfect Paso Robles wine tasting getaway.
Of course there are loads of other amazing things to do besides wine tasting, but we'll leave that for another post.
If you have any questions about Paso Robles, our tours or anything else – feel free to get in touch!
We can wait to hear from you, and hopefully toast with you soon.
Cheers!