Wine Tasting Attire Do's and Don'ts
If you're planning on going on a wine tasting adventure, one thing you might be wondering is what to wear. Don't worry, we've got you covered! In this blog post, we'll be discussing the dos and don'ts of wine-tasting outfits and giving you some helpful tips on what to wear for your next wine tour.
When choosing the best wine-tasting outfit to wear on a wine tour, we recommend sticking to comfortable and stylish choices that are appropriate for the season and your itinerary.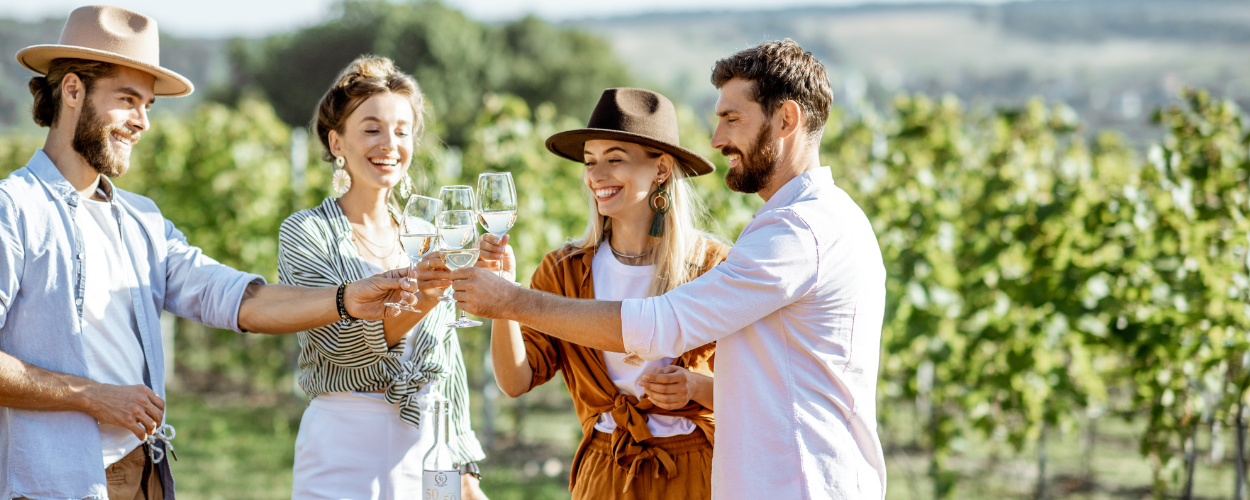 Here are some quick Do's and Don't for your special day wine tasting:
Do Bring Layers: wine tasting rooms, cellars or barrel rooms can be cooler than outdoor areas, so you'll want to be sure to have layers with you to keep you comfortable regardless of where the day takes you.
Do Choose Comfortable Shoes: you can usually expect to do some walking or standing during a wine tour, so comfortable shoes will be key! On top of that, many wineries have dirt, gravel or grass surfaces that are uneven, so having comfortable shoes will prevent you from tripping or hurting yourself. Stylish flats, low wedges or low-heeled booties, loafers, or comfortable sandals will keep you comfortable and looking great.

Do Go for Neutral and Dark Colors – when wine tasting, we recommend choosing dark or neutral colors, such as black, navy, gray, or earth tones, since accidents and splashes can happen and these colors tend to be more forgiving than whites or pastels. Clothes with a pattern can also hide any spills or splashes as well.

Do Wear a Hat and Bring Sunglasses – many wineries have outdoor seating, or you may walk through a vineyard, so we recommend bringing a hat and sunglasses to protect you from the sun.

Do Bring a Tote or Small Bag – this will help you hold essentials such as a notebook, pen, sunglasses, sunscreen, a water bottle to keep you hydrated, and any souvenirs you may find throughout the day! If you're planning to purchase wine throughout the day, be sure that your vehicle has a cooler or someplace safe to store your wine without it overheating and getting cooked.
Don't Wear Perfume or Fragrances – avoid wearing heavy perfumes, colognes or lotions with strong smells. These can interfere with the aromas of the wine and bother other tasters who are trying to asses the aromas in the wine.
Don't Wear Clunky Jewelry – choose simple accessories that won't get in the way of your wine tasting. Clunky jewelry can clank against glasses or more easily knock glasses off the table.
Don't Wear White or Light-Colored Clothing – while white & light colored clothing can look elegant (& keep you cool on a hot day!), they are more susceptible to spills or stains when wine tasting. If it's going to be hot during your visit, try to opt for darker colors in lighter fabrics – such as linen or cotton.
Don't Wear Clothes that Aren't Comfortable – wearing clothes that are overly tight or complicated to get in and out of may not be the best fit on a wine tour. You'll often walk through vineyards, sit and stand for long periods, and since you're consuming water and wine all day, you'll likely use the restroom frequently. So you want to make sure your clothes are comfortable and easy to wear for extended periods.
Don't Overdress or Underdress – while some wineries are more luxurious than others, your winery outfit shouldn't be formal. So keep the cocktail dresses at home, and instead opt for a stylish sundress. On the flip side, sweatpants aren't typically appropriate for wine tasting. However, a cute pair of jeans with a nice blouse or top are perfect for a day wine tasting!
In the end, the most important thing to wear on a wine tour is your smile! Wine tasting is a fun, social and casual day out where you get to spend time with friends and make some new ones.
Can you wear jeans to a winery?
Absolutely! Jeans are a great option for a day of wine tasting.
Some wineries may be more upscale than others, so it doesn't hurt to checkout the wineries beforehand and maybe look at their social media to see how others have dressed there!
Regardless, you can always dress your jeans up with a chic blouse, sweater or cute blazer.
How should you dress for wine tasting in Paso Robles?
Paso Robles is a world class wine region, with a casual and approachable feel.
While a wine region like Napa Valley has many luxury estates that may require more elegant wine-tasting attire, it's not uncommon to see people in Paso Robles wine country wearing jeans with cowboy boots.
So when planning your perfect wine-tasting outfit for Paso Robles – remember that comfort is key.
Paso Robles has a Mediterranean climate with warm to hot summers and mild winters. Daily temperatures also fluctuate greatly and can have a 50-degree difference between the daytime to the nighttime temperature – so be sure to bring layers and plan for the evenings to be chilly compared to the daytime temperatures.
Many wineries in Paso Robles are also rustic and off-the-beaten-path, so wearing comfortable shoes is important so that you don't have trouble walking on uneven surfaces. Having comfortable shoes also allows you to explore more of the properties you're visiting!
Daytimes in Paso Robles can have lots of heat and sun, so don't forget your sunscreen and a hat to provide shade can be a good choice too.
Always check the weather forecast before your trip to be sure you're prepared!
If there is going to be rain or extreme heat, call the wineries to ask if they will have covered or indoor seating for your group and prepare accordingly.
Ultimately, Paso Robles has a relaxed vibe, so pick clothes that are stylish and comfortable to make the most of your wine-tasting experience.