It's no longer a secret that Paso Robles is a world-class destination for great wine, food, beer and so much more, but this tiny cowboy town still seems to have plenty of surprises up its sleeve. Enter Tin City Paso Robles – an unexpected diamond in the rough hidden away in an industrial complex just south of the City of Paso Robles off of Ramada Drive.
If you want a great introduction to Tin City, learn more about this interesting area and taste through some awesome craft producers, check out our Taste of Tin City Walking Tour.
Tin City Paso Map
Since Tin City's inception, additional wineries, breweries and distilleries have opened in nearby industrial areas with a similar focus on quality, small production wines, beers and distilled spirits in a casual, relaxed atmosphere.
While not as robust or walkable as Tin City proper, you can find some excellent options in these nearby areas, which is why we've included them in our map below as 'Tin City Annex', 'Tin County' and further north along Ramada Drive (Firestone Walker Brewery, Broken Earth Winery & Two Moons Cellars). 
Please keep in mind that the map is not drawn to scale, and that it is best to check current opening days & hours, since these often change.
A great way to experience Tin City as well as Paso Robles wine country is to take one of our tours. Both our Toast Together Wine Tour and our Hearst Castle & Wine Tour end the day in Tin City and our Taste of Tin City Walking Tour is a great introduction to this gem!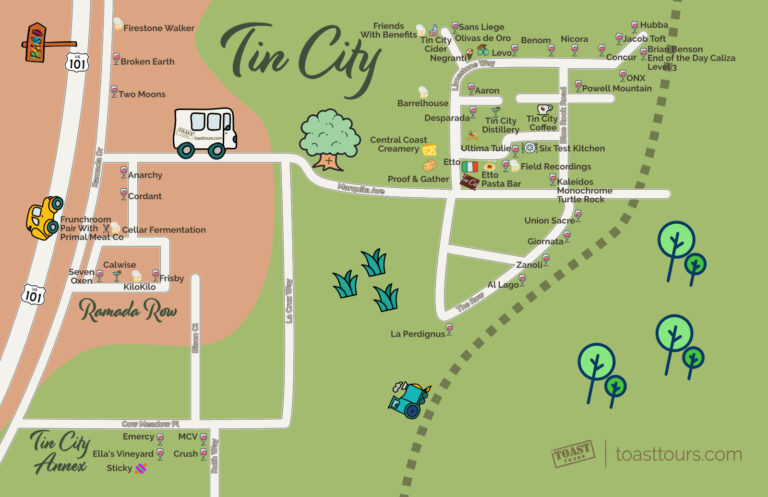 Currently home to over twenty-five wineries, this is the place where passionate, small-production local winemakers come to focus their time, expertise and energy on making high-quality, small lot wines. It's an environment where they're uninhibited and are able to let their creative juices flow – literally!
As a result, they've ended up making some of the most noteworthy wines available, and have added an entirely new tasting experience to the Paso Robles' offerings. Here you'll be able to stand in their active boutique winery / tasting room, sip wine and chat intimately with the winemakers themselves, while learning about the stories and passions behind each delicious, unique bottle.
However, it's not just wineries that have made Tin City their home. The industrial warehouse community houses the notorious craft brewery, BarrelHouse Brewing Company, with its spacious beer garden and entertaining live music, as well as other breweries, a cider house, two distilleries, an ice cream shop, olive oil, a Michelin Star restaurant, a pasta bar, food trucks, a pasta factory, and new offerings being added all the time.
With all of these options, visitors are guaranteed to have their bibulous desires fulfilled.
Because of the plethora of top-notch options offered at Tin City, Toast Tours finishes every Toast Together tour here – giving our guests the option to visit any number of innovative and intimate tasting rooms and enjoy an unparalleled experience.
We look forward to Toasting with you soon!
Paso Robles Wineries
1 (805) 369 2037
1 (805) 369 2590
1 (805) 369 2242
1 (805) 369 2036
1 (805) 296 3838
1 (805) 239 2562
1 (805) 242 9463
1 (805) 369 2313
1 (805) 286 4157
1 (805) 434 9611
1 (805) 704 9446
1 (805) 221 5840
1 (805) 369 1011
1 (805) 503 9660
1 (949) 243 6691 (coming soon)
1 (805) 434 3075
1 (805) 550 9920
1 (805) 550 1633
1 (805) 226 0828
1 (805) 369 2006
1 (805) 238 2719
1 (805) 400 5994
1 (805) 712 4647
1 (805) 674 2160
1 (805) 400 0039
1 (805) 434 5607
1 (805) 434 8097
1 (805) 773 2770
1 (805) 369 2710
1 (805) 674 1889
1 (805) 769 8110
1 (805) 365 4090
1 (805) 369 2777
1 (805) 712 5225
Paso Robles Breweries 
1 (805) 296 1128
1 (847) 922 2342 (coming soon)
1 (805) 225 5911
fwbbeer.com
1 (805) 296 3670
Paso Robles Distilleries
1 (805) 369 2662
Tin City Distillery / Wine Shine
1 (805) 286 4453 
Paso Robles Cider Houses
1 (805) 293 6349
Paso Robles Food
1 (805) 439 7090
1 (805) 668 0959
1 (805) 369 2787
1 (805) 400 3193
1 (847) 922 2342 (coming soon)
1 (805) 668 4490
1 (805) 369 2663
1 (805) 227 4223
1 (847) 922 2342 (coming soon)
1 (847) 922 2342 (coming soon)
1 (805) 439 3661 (coming soon)
sixtestkitchen.com
1 (805) 369 2442